News & Reports
Posted by tom on May 12, 2015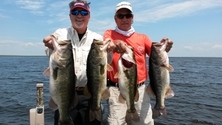 Well summer is here and it's hot! Water temperatures are in the mid 80's.Some of the fish have already moved offshore. There are still plenty of fish in the inshore grass with swim baits working best for me. I have been using a 1/2 oz. Gambler swim bait with a Yamamoto swim senko trailer either solid white or black and blue. The swim bait bite gets over pretty early then go to a 5" black senko pitched in the grass. All fish are relating to the outside grass line. Most fish are 2 to 2-1/2 pounds with a good one every once in a while. Water level is 13.59 as I write this report and that's a little high for this time of year. Navigation is easy, you can run about anywhere without hitting anything. Overall the lake is in great shape and fishing is good. Give me a call and let's book a trip. Don't miss the opportunity to come fish the best bass lake in the country...Lake Okeechobee!
---
Posted by tom on March 26, 2015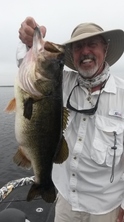 Fishing has been great the last three week here on Lake Okeechobee. Lots of big fish are being caught, with the best results coming from the north end, mostly around North Shore to Bird Island. It has been much more productive than the south end of the lake. Fish are spawning although you cannot see them due to the high water which is currently at 14.14 feet. Fishing over the hydrilla has been best for my clients and I. Senkos, swimbaits with Yamamoto swimbait trailers, and swimming big worms hae been best. If you can get a good windy and overcast day it's on like Donkeykong. Fishing should do nothing but get better on Lake Okeechobee. Don't miss out, come fish with Tom Mann, Jr. on the best big bass lake in the country...Lake Okeechobee!
---
Posted by tom on October 22, 2014

OK, we have too much water in lake Okeechobee. The lake level is 15.80 as I post this report, This is good and bad. The good is we will have plenty of water going into the dry season, The bad isthat it has spread the fish all over the place. Live bait fishing has been great as usual, As for lures, it has been off and on. For me the Yamamoto Senko and Dshad have been working best. The fish are starting to move back in the grass with swimjigs and topwater swimbaits also working well. I think the water temperature will start dropping soon and that will start the spawning cycle and it will be on for the next 5 months. Don't miss it...come fish the best big bass lake in the country.
---