News & Reports
Posted by tom on April 8, 2014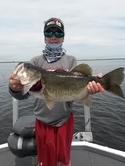 The schooling fish are on in the peppergrass beds, the shad are starting to spawn in the peppergrass and the bass are right with them. I have been throwing a 3/8 oz. white swimjig with a small swimbait trailer. Look for the birds at first light and when you find them going to the water you have found the fish. The good thing is this year there is much more peppergrass than last year, this is a great sign for Lake Okeechobee. Senkos and Dshad have been my go to baits after the schooling stops in the morning, just stay in the same area and slow down with these baits, you will catch fish. For the big fish bite the jig and crawfish trailer in the reeds is still working best. Come fish the best bass fishing lake in the country Lake Okeechobee.
---
Posted by tom on February 28, 2014
Fishing in the last few weeks has been awesome. The weather has been very stable and water temperatures are in the middle 70's. There are fish in every stage: spawn, pre-spawn and post-spawn. Some fish are starting to move back out of the spawning areas and holding in the eel grass and the peppergrass. These fish I have been catching on Gary Yamamoto Dshads, Senkos and swim jigs. This is the best time to come to Lake Okeechobee. The fishing in the next two months will be the best of the year. Give me a call at 678-296-5879 and come fish the best big bass lake in the country.
---
Posted by tom on December 13, 2013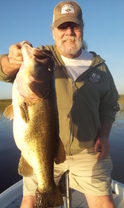 Come fish the best big bass lake in the country...Lake Okeechobee. Call now to book a trip for your opportunity to catch a big one.
---