News & Reports
Posted by tom on June 21, 2013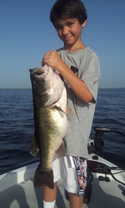 Lake Okeechobee is at 13.90. It's been a long time since the lake has been in this good of shape going into the summer. Fishing has remained really good, it took 35lbs to win last Saturday and 30lbs to get 4th place. There are still plenty of fish in the grass and they are starting to show up offshore. The picture is of 10 year old Grant and he caught this nice fish this morning. I took him and his brother Reed for a 4 hour morning trip and they both caught some good fish. Swimjigs, Senkos and lipless crankbaits have been working best. As always, if you want to catch a big fish on Lake Okeechobee you want to take some shiners. I expect the lake to fish good all summer with this water level. Give me a call and come fish the best lake in the country.
---
Posted by tom on May 28, 2013
The past couple of weeks have been interesting on Lake Okeechobee. We had an early algae bloom that turned the water green, the good news is the fish are still biting. The last two tournaments took 37 and 34 last weekend. The live bait fishing has been great, the guys in the pic are Rocco (The Rock) and Jake Solomon, two brothers I took out this past Saturday. Rock caught his biggest bass ever…8.37 pounds and we caught lots of bass. The artificial bite has remained good. Some big fish are still being caught on the 1oz jigs. Numbers and big fish for me it's the Senko in watermelon red. Another bait that I have fell in love with is the Kinami Psycho Dad. I have been pitching this bait in the isolated reed patches and catching some real good fish. If you have not tried this bait give it a try. I am sure you will like it. Lake Okeechobee water level is 13.40, still in great shape. As long as it stays high the fish will remain in the grass. Don't hesitate to come fish the best bass lake in the country in the summer… it's still good fishing.
---
Posted by tom on May 3, 2013

Walking baits, poppers and topwater frogs...If you like to fish topwater May is the month for you. The spawn is finally over and the big fish on Lake Okeechobee are on the outside grass lines heading to the offshore structure. This is one of my favorite times on Lake Okeechobee. The fish right now are schooling in the morning, you can catch fish on swimjigs, soft jerkbaits like the Dshad in white or topwater baits. This goes away in about an hour and a half. Then you can go down the main lake reed line and pitch a craw like a Yamamoto psyco dad from Yamamoto in green pumpkin and catch fish all day. If you can get a day where it is overcast, the topwater swim frogs work really good over the Kissimmee grass and peppergrass if you can find it. Come fish the best big bass lake in the country... Lake Okeechobee.
---