News & Reports
Posted by admin on April 19, 2013

Fishing remains great on Lake Okeechobee, This is Dave and Nancy from Ft. Meyers and they caught 42 on a half day trip this morning. The pic is their 4 big ones 7lb to 8.11 lb. My customers have caught many big fish this week. The spawn is about over and the fish are moving to the outside grass lines. The live bait bite has been great but the artificial bite has been good also. Yamamoto Senkos and Dshads have been working best for me. There is still a shad spawn going on in the pepper grass and the white Dshad has been best for this. Look for the birds on the calm mornings. When you see them there will be schooling fish and its on. Come fish the best big bass lake in the country.


---
Posted by tom on March 13, 2013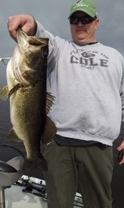 The females are finally coming in to spawn despite the cold weather we've had lately. Without a doubt a watermelonred Senko is the best thing to throw at these big fish, with its slow fall going down in the bed these fish cannot resist it. When you get back in the grass flats just look for the holes in the grass and toss your Senko in there and hold on. Another great way to find these big fish on Lake Okeechobee is to fan cast a Swimming Senko and just bring it over the beds...this can be deadly. Also Gary Yamamoto has come up with a great way to keep you swiming worms and senkos from hanging up in the grass, its call a Grub Guard and it fits right on the front of your soft plastics and acts as a nose cone. Your bait slides threw a grass with ease. Its also made of soft plastic so the fish don't feel anything and also comes in many colors... this thing works great. Now to the shinner bite, as always it is working great. My clients have caught a lot of big fish this week, Come fish with me on Lake Okeechobee, the best bass lake in the world.
---
Posted by tom on February 27, 2013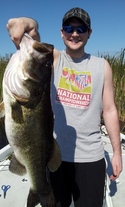 The past week was the full moon and finally the big fish are making a move to spawn. My clients caught big fish all week this week. Live bait has been best but the artificial bite has been good also. 5 and 6'' senkos have been the best lure of choice. The frog bite is also coming on with the swimming frogs working best. Lake Okeechobee water temps have been in the mid to high 60s and the water level is 14.40. I would like to see it at 13.50. Lake Okeechobee is in the best shape I have ever seen it in years. Call and book now for late March and April, they are some the best months to fish Lake Okeechobee. Remember you can contact me directly or call Roland Martin's Marina. You can call them and book your lodging reservations at the same time, just be sure to request me as your guide.
---