Discover Lake Okeechobee in a BIG WAY!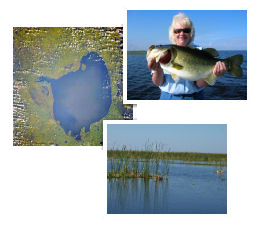 Lake Okeechobee offers fantastic fishing year round for trophy bass, and there is of course no better place to be in the middle of winter than fishing for huge largemouth bass on the beautiful warm waters of Lake Okeechobee. Typically, artificial bait is used here but shiner fishing is a favorite for many anglers. The guide fees are the same but shiners are extra if that is how you would like to fish. As always, the choice is yours.
Fish Like the Pros
We will be fishing from a Ranger Z520C powered by Evinrude Outboards, with top of the line rods and reels furnished by Lew's. Left and right-handed tackle is always available. If your trip is using artificial bait, we have everything we might need for the day including some of the latest and greatest in lures, hooks, lines, and more. There is no need for you to bring any of your own gear. That said, you may have a rod and reel you enjoy fishing with, and if so please feel free to bring it along. It's your trip and we want it to be the best guide trip you can have. Additionally, an ice chest is always on board, ready for your snacks and drinks of choice. As with any natural place, weather can be unpredictable on the water, so you may also consider bringing a jacket for those cool early morning starts, possibly a rain suit of sudden showers, and sunglasses, a hat, and sunscreen for that beautiful sunshine. Don't forget your camera as well. A photo of you with your trophy catch, printed on premium photo paper, can be waiting for you at the end of the day upon request.

A Record of Success and Safety
Remember, you are not booking a trip with just any guide; you will be on the water with one of the country's top professional fishermen with over 27 years on the tournament trail, over 40 years of fishing on Lake Lanier and over 25 years fishing Lake Okeechobee. Tom is a professional with an incredible understanding of the environment, as well as a USCG licensed captain so you don't have to worry about putting your best client, kids, parents, and friends in my boat for a fantastic day fishing.
RATES & HOURS
Half Day (4 Hours) $300.00
Super Half Day (6 Hours) $350.00
Full Day (8 Hours) $400.00
Rates are for 1-2 people, 3rd person is $100.00 extra.
A valid credit card is required at time of reservation to confirm your trip. We do not require a deposit and there will be no charge to your credit card at that time, it is simply to guarantee your reservation. We do have a cancellation fee of $100.00 if you fail to notify us that you need to cancel at least 24 hours prior to scheduled trip or are a "no-show". This fee will be charged to the credit card you provided when reservation was made.
Fishing licenses are required and should be purchased in advance. Please call 888-FISH-FLORIDA (888-347-4356) or purchase online at www.myfwc.com/License. Children 16 and under and Florida residents 65 and over are exempt.

We have a high level of repeat business, with some of our regular customers booking as much as a year in advance. When you decide to book your trip, contact us directly, or call 678-296-5879 or 678-640-8616. Whether it is a single day or multiple day trip, whatever your needs, we can help you get it done. We can also assist you with information on airports, lodging and dining in the area. Always contact us if you are wanting to book a trip, even if you think the days you want might be booked already. I have several guides that I work with on a regular basis, all with USCG Captain's License, all good guides. I won't  put you with a guide just to book the trip, your satisfaction is far more important. Give me a call and let's go fishing!